COMMUNIQUÉ – 03-27-2020 – Deferral of Municipal Tax Payments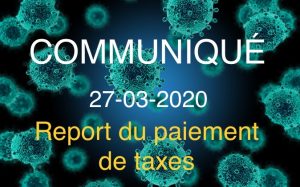 The Frelighsburg elected officials have decided to postpone the payment of municipal taxes by 2 months.
This decision will be ratified by the Municipal Council during the April 6, 2020 regular Council meeting by modifying By-law of 115-02-2020 enacting the levying of municipal taxes for the year 2020.
Therefore, the Municipality of Frelighsburg postpones the next municipal tax payments under the following guidelines:
March 31 payment: postponed to June 2
June 30 payment: postponed to September 1
August 31 payment: postponed to November 2
This measure applies to both individuals and businesses.
Payment methods:
Banking system: you can make your payments anytime between the date initially planned and the postponed date shown above. If you have scheduled automatic payment of your taxes with your financial institution, you must change the payment dates yourself since the Municipality cannot do that.
Post-dated cheques: the Municipality will cash your cheques on the postponed dates.