Walking Tours
The proposed walking tours are mostly established along quiet, unpaved roads, offering a magnificent view of our landscapes. Consider parking your car at the entrance or at the centre of a village, and enjoy a leisurely tour.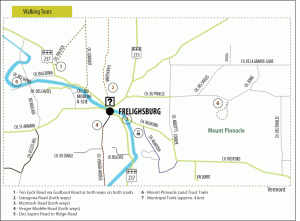 Ten Eyck Road via Godbout Road or both ways on both roads.(Both ways.)
Garagona Road (both ways).
McIntosh Road (both ways).
Verger Modèle Road from the center of the village.
Des Sapins Road up to Ridge Road (both ways).
---
Municipal Trails (approx. 4 km)
Carte parcours découverte du parc municipal (PDF)