Cycling Maps
Map of the region
We propose a number of leisurely tours around Frelighsburg. These tours are not marked; they are merely suggestions for a pleasant stroll. All suggested roads are asphalted.

"To the Mouth of the Pike River"
This tour brings you on a short trip through the United States to Lake Carmi, source of the Pike River. Bring a picnic basket and relax on the lakeshore.
(Approx. 70 km)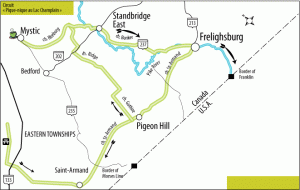 "Picnic at Champlain Lake"
Cycle through the village of St-Armand, until you reach Champlain Lake in Philipsburg, where you can have a picnic on the dock.
(Approx. 40 km)
"For seasoned cyclists"
Take on the Joy Hill, an eight km long ride up towards Vermont. Keep going to Montgomery Falls where a swim and a picnic are a must.
(Approx. 65 km)
REMEMBER TO BRING YOUR ID OR PASSPORT FOR TOURS TO THE UNITED STATES AND HAVE A CONTACT PERSON'S PHONE NUMBER HANDY.