Collection and Management of Domestic Waste
including organic waste collection.
The citizens of Frelighsburg have access to a door-to-door collection service for recyclable, compostable and household waste.
Collection is always done alternately every two weeks for the blue and brown bins. The green bin is collected once a month depending on your sector.
PLEASE COMPLETE AND SUBMIT THE FORM TO DOWNLOAD YOUR COLLECTION CALENDAR.
You can get the wheeled bins at the Town Hall:
360-litre wheeled bins are available at a price of $100 (taxes included).
Recycling bins (blue) composting bins (brown)– They are the property of the Municipality and must remain at the address of the building even if you move house.
In order to guide you on the accepted or refused materials:
Household garbage bin (green) – To allow for a clean and safe garbage collection, we ask that you follow the following guidelines: Inform your tenants and visitors, if applicable:
The use of green garbage bins is mandatory
Leave your garbage bins the night before or before 7 a.m. on the morning of garbage collection
Garbage containers should be placed so that the opening of the lid points towards the street, according to the indications printed on the top of the lid. Garbage bins should be placed as close as possible to the street and should not be too close to poles, mailboxes and your other bin (leave a space of about one metre (40 inches)
Do not place waste / recyclables on the cover or next to the bin
Clean your garbage bin regularly (to counter odours)
Make sure your garbage bin is sturdy and in good order
Bulky and oversized items are not collected
Do not throw away your dangerous items
Review the list of items to drop off at the sorting center and ECOCENTRES
Biomedical waste must be disposed of in places specifically authorized for this purpose. Most pharmacies accept expired drugs
Tires, used oils and paints are collected by certain businesses in the region
ECOCITIZEN'S GUIDE
You are invited to consult the Ecocitizen's Guide by the MRC de Brome-Missisquoi.
Annual Collection of Bulky Refuse Items
ANNUAL COLLECTION OF BULKY ITEMS 2021 will be on October 11th, 2021. 
GLASS CONTAINERS
There are two glass containers located in the parking lot at 47 Main Street, to the right of the gas station.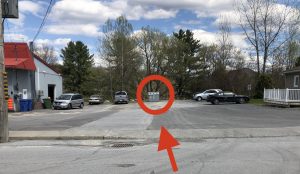 Ecocentres
For all the information concerning the ECOCENTRES in Brome-Missisquoi, visit mrcbm.qc.ca/en/eco_accueil.php .